MSc A.L. Mansano
PhD student
Bioelectronics (BE)
,
Department of Microelectronics
PhD thesis (Nov 2016): Radio frequency energy harvesting and low power data transmission for autonomous wireless sensor nodes
Promotor: Wouter Serdijn
Expertise: Analog/RF IC design, Energy Harvesting and Asynchronous RF and UWB Systems
Themes:
Wireless Power Transfer, Power Management and Energy Harvesting
,
Transcutaneous Wireless Communication
Biography
Andre L. Mansano was born in Jaboticabal, Brazil, in 1982. He received the Bachelors degree in electrical engineering from the Universidade Estadual Paulista, São Paulo, Brazil, and the M.Sc. degree from the Universidade Estadual de Campinas, São Paulo, Brazil, in 2006 and 2009, respectively.
In 2010 he joined Delft University of Technology, the Netherlands, as a guest researcher, where he is currently pursuing his Ph.D. degree. In 2007, he joined Freescale Semiconductor Brazil as an analog/mixed-signal designer, where he designed analog IPs for 8-bit and 32-bit microcontrollers. His IP portfolio, mainly intended for the automotive industry, comprises power management controllers, switched-capacitor amplifiers, crystal oscillators and regulated charge pumps.
He has authored four scientific publications and has been granted two patents. His research interests include wireless energy harvesting, low-power sensors, ultra-low power management techniques and broadband wireless communications.
Publications
Introduction to RF Energy Harvesting, in: WEARABLE SENSORS: Fundamentals, Implementation and Applications, Second Edition
Gustavo C. Martins; Andre L. Mansano; Mark Stoopman; Wouter A. Serdijn;
Edward Sazonov (Ed.);
Academic Press (Elsevier), Chapter 11, , pp. 311-336, Nov. 20 2020. ISBN : 978-0-12-819246-7.
document
Energy-Efficient Low-Power Circuits for Wireless Energy and Data Transfer in IoT Sensor Nodes
G.C. Martins; A. Urso; A. Mansano; Y. Liu; W.A. Serdijn;
April 28 2017. Prepublication.
document
An Autonomous Wireless Sensor Node With Asynchronous ECG Monitoring in 0.18 um CMOS
Andre L. Mansano; Yongjia Li; Wouter A. Serdijn;
IEEE Transactions on Biomedical Circuits and Systems,
2016.
document
Radio frequency energy harvesting and low power data transmission for autonomous wireless sensor nodes
Andre Luis Rodrigues Mansano;
PhD thesis, Delft University of Technology, Nov. 22 2016.
document
Autonomous Wireless Sensor for ECG Monitoring
Andre Luis Mansano; Yongjia Li; Wouter Serdijn;
In Book of Abstracts, 5th Dutch Bio-Medical Engineering Conference,
Egmond aan Zee, the Netherlands, January 22-23 2015.
document
A Frequency-Selective Broadband Low-Noise Amplifier With Double-Loop Transformer Feedback
Sumit Bagga; Andre L. Mansano; Wouter A. Serdijn; John R. Long; Koen van Hartingsveldt; Kathleen Philips;
IEEE Transactions on Circuits and Systems-I: Regular Papers,
Volume 61, Issue 6, pp. 1883-1891, June 2014. Digital Object Identifier: 10.1109/TCSI.2013.2295010.
document
An ECG Recording Front-End With Continuous-Time Level-Crossing Sampling
Yongjia Li; Andre L. Mansano; Yuan Yuan; Duan Zhao; Wouter A. Serdijn;
IEEE Transactions on Biomedical Circuits and Systems,
2014. Digital Object Identifier: 10.1109/TBCAS.2014.2359183.
document
Introduction to RF Energy Harvesting
W.A. Serdijn; A.L.R. Mansano; M. Stoopman;
In WEARABLE SENSORS: Fundamentals, Implementation and Applications,
Academic Press (Elsevier), Aug. 2014. ISBN : 978-0-12-418662-0.
document
A 13.56/402 MHz Autonomous Wireless Sensor Node with -18.2 dBm Sensitivity and Temperature Monitoring in 0.18 um CMOS
Andre L.R. Mansano; Sumit Bagga; Wouter A. Serdijn;
In proc. European Solid-State Circuits Conference (ESSCIRC),
Venice, Italy, Sept. 22-26 2014.
document
An Asynchronous Event-Driven Data Transmitter for Wireless ECG Sensor Nodes
Andre L. Mansano; Yongjia Li; Sumit Bagga; Wouter A. Serdijn;
In proc. Biomedical Circuits and Systems Conference (BioCAS),
Lausanne, Switzerland, Oct. 22-24 2014.
document
A High Efficiency Orthogonally Switching Passive Charge Pump Rectifier for Energy Harvesters
Andre Mansano; Sumit Bagga; Wouter Serdijn;
IEEE Transactions on Circuits and Systems-I: Regular Papers,
Volume 60, Issue 7, pp. 1959-1966, July 2013. Digital Object Identifier: 10.1109/TCSI.2012.2230499.
document
Wireless Energy Harvester with a Switching Passive Charge Pump Rectifier
Andre L.R. Mansano; Wouter Serdijn;
In Meeting Abstract: Progress In Electromagnetics Research Symposium (PIERS 2013),
Stockholm, Sweden, Aug. 12-15 2013.
A Frequency-Selective Nested Dual-Loop Broadband Low-Noise Amplifier in 90 nm CMOS
Sumit Bagga; Andre Mansano; Wouter Serdijn; John Long; Kathleen Philips; John Pekarik;
In Proc. European Solid-State Circuits Conference (ESSCIRC),
Bordeaux, France, IEEE, pp. 121-124, Sept. 17-21 2012.
document
BibTeX support
Last updated: 18 Jan 2017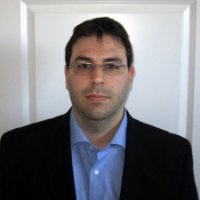 Andre Luis Mansano
Alumnus
Left in 2016
Now: AnalogMixed-Signal IC Designer at Philips Research