Overview
The mission of the Section Bioelectronics is to provide technology for the successful monitoring, diagnosis and treatment of cortical, neural, cardiac and muscular disorders by means of electroceuticals. To this end, we investigate and design active implantable biomedical microsystems employing:
Biosignal conditioning/detection
Neuroprosthetics
Transcutaneous and intra-body wireless communication
Wireless power transfer and management
Energy harvesting
Bioinspired electronics
Implantable electronics
Flexible implants
Microsystem integration
as applied in, e.g., hearing instruments, cardiac pacemakers, cochlear implants, ExG recorders, spinal cord implants, neurostimulators and bioelectronic medicine.
Education
The Bioelectronics group participates in the Electrical Engineering BSc curriculum and two MSc tracks:
MSc Biomedical Engineering
,
MSc Microelectronics
.
Research
Bioelectronics consists of 2 professors (+1 vacancy), 1 visiting professor, 1 technician, 1 secretary and 10 researchers.
Presentations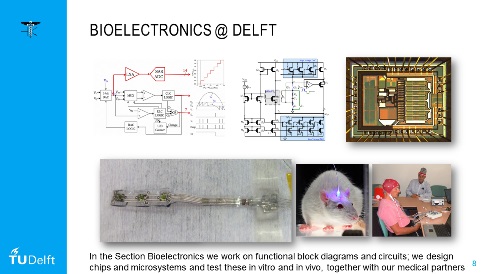 Presentation on electroceuticals, highlighting some of the work done in our section. Read more.
Video recording of Wouter A. Serdijn's inaugural lecture (NL: intreerede, in het Nederlands), d. March 30, 2016: Beter worden met elektroceutica -- elektronische medicijnen reiken de helpende hand.